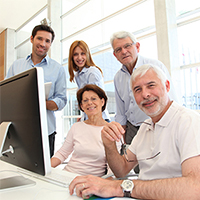 Join us as we Modernize the World of Retirement!
Welcome to our RCA Membership information page. If you are here, we know you likely share our passion for helping others and are motivated by the idea of coming together with like-minded people to help to modernize retirement as we know it- disrupting old and outdated perceptions.
The RCA is made up of experienced certified coaches, financial professionals, human resource specialists, PHD's and many others. This also makes it the perfect professional organization for new Retirement Coaches. We foster a community that nurtures and promotes the growth of its members in clinical application, business concepts, marketing, and networking. We accomplish this in a variety of ways, including:
Members-Only Content & Training
Get valuable content – from training resources to industry intel – accessible to RCA members only with your RCA membership..
Member Directory
Use the RCA member directory to connect and collaborate with other coaching professional for insight, mentoring, advice, and for professional introductions (for Professional Members only).
Annual Conference & Learning Events
Attend events guaranteed to sharpen your skills and expand your understanding of the speaking profession.
Retirement Coach Newsletter
Our quarterly newsletter offers members helpful articles and insightful commentary from the thought leaders and trendsetters in our profession.
RCA Store: Access to Tools & Resources
RCA has the most comprehensive access and cutting-edge collection of tools and resources for retirement coaches anywhere. The RCA store allows coaches to promote their tools and material as well as purchase them from member and member based organizations.
CPRC Credential
Show clients and organizations that you are committed to your craft by earning the CPRC (Certified professional Retirement Coach) designation.