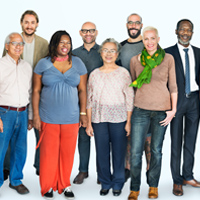 Welcome to the Retirement Coaches Association Community! We are a diverse group of people with varying professional credentials and experiences who share a common goal- Modernizing the World of Retirement.
Founded in 2017 by Robert Laura, the RCA has grown in membership, gone international, published 5 best-selling books, presented dozens of CE credit worthy webinars and trainings and is currently planning its 6th annual conference. This event features the industry's top experts and influencers on the non-financial aspects of retirement living.
Our membership is made up of experienced certified coaches, financial professionals, human resource specialists, PHD's and many others. Their combined expertise allows us to modernize retirement as we know it- disrupting old and outdated perceptions.
In recent years we have partnered with like-minded organizations to provide our members with sophisticated opportunities to help grow their practices and enhance the lives of their clients. You can learn more about these industry innovators here.
The original vision of the RCA remains focused on these three founding principles::
Establish consistent standards and methods of practice to increase professional credibility
Enhance the knowledge and skills of retirement coaches worldwide- providing opportunities to earn CE credits
Educate the public, raising awareness about the crucial role retirement coaching can and should play in the retirement planning process..
We would love to have you be a part of our exciting mission You can learn about our RCA member benefits here.
If you are looking for a Retirement Coach to help you navigate through this journey you can find a complete list of available coaches here.
We look forward to welcoming you into the RCA family and having you take part in Modernizing The World Of Retirement.